Catering for Corporate Events in Provence
Catering for Corporate Events in Provence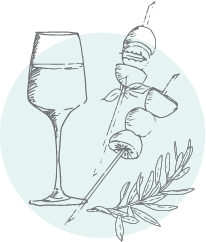 Roland Paix Catering
for Corporate Functions
"OUR EXPERIENCE AND PERSONAL ATTENTION TO DETAIL ARE A TRUE PROMISE OF SUCCESS FOR YOUR EVENTS."
Every year Roland Paix Catering guides numerous companies and events agencies in the conception and organization of successful corporate events across Provence. The sheer wealth of our experience means we can meet all your needs.
For events in the Bouches-du-Rhone, the Var, the Vaucluse or the Cote d'Azur, a dedicated and mindful team will be entirely at your disposal, taking pride in their attention to detail while designing your bespoke event, whether it be a seminar a market launch, a congress, an investiture or a private viewing, whether there be 10 or 2000 guests, we will do everything possible to make your event unique and unforgettable.
At Roland Paix Catering we share a passion for gastronomy. From the classic cocktail to a luxury gala dinner, we are always ready to organize the project by your side.
Roland Paix is also committed to reducing environmental impact of our events in order to respect the environment better. In accordance with the RSE (Responsabilité Sociale des Entreprises), we are constantly increasing our efforts towards sustainable development : using local suppliers, limiting waste, and using containers which are either reusable or biodegradable.
Infallible
organization
"More than 400 professionals a year."
Working closely with a dedicated bilingual project manager, you will be able to choose a tasting menus, the staging, the layout of the event and the decorations.
Having satisfied customers is probably the best business card any company can have, and at Roland Paix we are wholly committed to quality of service. For impeccable organization you will enjoy the services, professionalism and discretion of our teams.
Roland Paix works in the majority of the Conference Centers across the region Sud (including Aix-en-Provence, Parc Chanot in Marseilles, Palais du Pharo, Palais Neptune in Toulon, The Mandelieu Centre de Congrès, The Juan les Pins Centre de Congrès and the Nice Acropolis) for all seminars, meetings and conferences.
Roland Paix also has partnerships with the most stunning private venues across the region.
Discover our partner venues.
Make the most of Roland Paix's experience with a whole range of exclusive reception venues in the South of France.